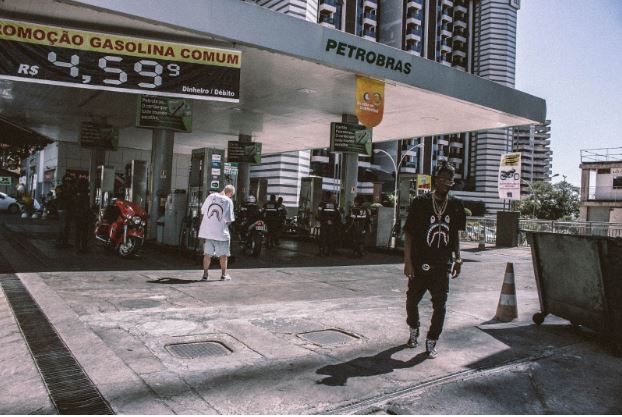 Styling Streetwear Tips For Adults
Daisy M, 1 year ago
0
6 min

read
742
Streetwear is a style that is aimed at the younger generation although some adults have explored this style. That does not mean to say they have done it correctly either. It isn't an easy style, especially if you are unsure about the brands to wear. 
Streetwear is one of those styles that many people love, however, they are unsure how to wear it so they avoid it. Nonetheless, the streetwear style varies. Some enjoy wearing contemporary streetwear and otters prefer to wear graphic tees, hoodies or tracksuits. Streetwear is one of those styles that you can wear anywhere if styled correctly. The problem is that people don't know how to style it correctly. 
Where Did Streetwear Begin?
This common fashion trend has been around for several years. You just haven't seen it on social media all this time. Streetwear started back in the late 1970s with a man called Shawn Stussy, founder of the streetwear brand Stussy. He originally began scribbling his name onto surfboards on a Californian beach before printing his name on shorts and tees. This is a style that many surfers took to, and inspired other brands with the streetwear style.
Although Stussy started this trend, Supreme was the brand that got the world to know this awesome style. If you see Supreme in stores now, you will probably notice that they have a high price tag. That is because the numbers were limited. They introduced the world to "drops". 
A drop is where Supreme would announce they are releasing a product that is a limited edition. Once they announced it, people would come in their hundreds, sometimes thousands queue outside the store, waiting for the release of the new product. Since then, it has been a common trend for many streetwear brands to do this particular sale method to cause a bit of hype around their products. The thing is, it works which is why supreme collaborates with many luxury brands such as Louis Vuitton to design premium garments. 
How To Style Streetwear
Sport Luxurious Fabrics
Streetwear was originally worn by surfboarders before skateboarders decided to embrace this style. It was a style for skaters and still is to this date. People used to wear streetwear because they were not bothered about their clothes getting damaged. Now, that is completely different due to clothes being far more expensive. 
Streetwear has changed a lot and has become expensive. There are many luxury brands out there such as Gucci and Louis Vuitton who have collaborated with Supreme to design the ultimate collaborations. Not only has the style of streetwear changed but the average cost for the garments has increased as well. Making it a clothing style that people have started caring about. As an adult, there are a few rules that you need to stick by. There are also a few brands that you should be wearing as well that will make you stand out. 
Don't Be A HypeBeast
If you are from the older generation, you are probably unsure what a hype beast is. A hype beast is a description for people who wear on-trend brands. As an adult, the last thing that you want to do is wear brands that a teenager is wearing, especially if you have children. Another reason why you want to avoid these brands is they may go out of fashion. Don't shy away from brands that you have never heard of. A good example of a brand that many people wear is Yeezy. 
Wearing brands that are more innovative and unique is a great way to style streetwear as an adult. Many streetwear clothes will be covered with the logo or the brand. If you can, avoid wearing these particular clothes. Wear more unbranded pieces of clothing or brands which are more subtle with their logos. Contemporary streetwear is something that an adult should be wearing because they are more subtle with branding.  Moreover, there are a lot of contemporary streetwear brands out there that are still new to the market, another reason why you should be wearing this unique style. 
Streetwear Starts From The Bottom
Streetwear isn't just graphic tees, oversized hoodies and relaxed cargo pants. Footwear is arguably the biggest part of streetwear. Those that wear streetwear will likely have several different pairs of footwear which follow the streetwear style. A couple of the most common footwear brands include Adidas and Nike. If you are going to wear footwear, these are the brands that you should be wearing. Nike is the most common and has collaborated with several streetwear designers to create limited additions to their shoes. 
Loose Fitted Clothing
There is a big difference between oversized and loose-fitted. If you are unsure, loose fitted is the typical day-to-day style that you will see many adults wear. It's the traditional relaxed fit. Oversized clothing will usually be clothing that is the next size up or naturally designed to be large. Wear clothes that match your physique or else they won't look right on you and that goes for all styles out there. 
The bottom half does not matter as it is the usual streetwear style. Wear relaxed joggers, relaxed jeans or utility pants. All those will go well with your upper half, depending on the occasion you are dressing for. The upper half is important because of your physique so ensure you try on clothes first. 
The Final Rule Is to Keep It Simple
Simplicity is fundamental when it comes to wearing streetwear as an adult. Try not to think about every piece. When styling streetwear, you should look at one main piece and then keep the rest simple. For example, when wearing a graphic tee, you want your shoes to be plain. If you prefer streetwear sneakers, keep the rest of your outfit basic. There is no need to complicate your outfit or else it would look odd. 
Final Summary
There are many reasons why streetwear is so popular and it is a style that is continuing to grow. Normally, fashion trends come and go but this style is very different. It has been worn for over two decades and is gradually spreading across the world. No matter what age you are, you should never be afraid to wear clothes because you are "too old" in some people's eyes. Wear clothes that suit you and you enjoy wearing then you are on to a winner.
Related posts